Issue 6 – Learning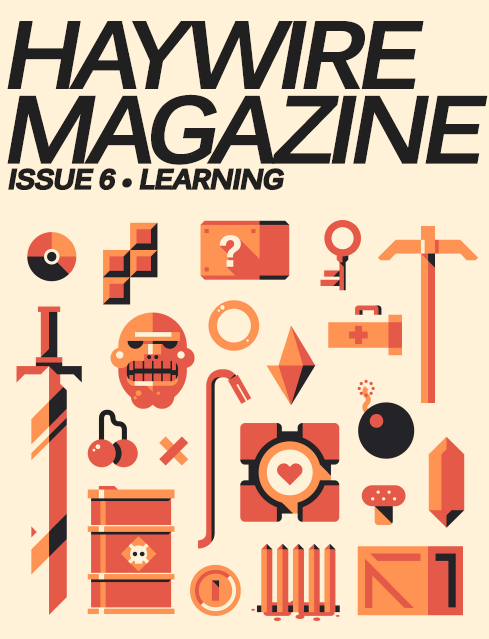 Issue 6 of Haywire is here at last, covering the lessons learned in games, from games and by working in the space surrounding games. With our look at the folly of Citizen Kane comparisons, two opinions on Lara Croft's trials by fire in the latest Tomb Raider, musings on the challenges of a videogame library and a frontline report about games in education. Plus the thrilling conclusion of The Seven Deadly Sins of Gaming, mastery through repetition in Rogue Legacy, a lecture comparing two companies and a recount of the lessons Hollywood failed to learn from Watchmen.
Should the file not display properly in your browser, consider reading it locally, or over on Issuu.
You can find the Citizen Kane of videogames Tumblr here. Our contribution comes in the shape of Ethan Woods' Cinemania. Ebert's opinion of Citizen Kane is taken from this piece, the Ingmar Bergman quotes stem from this one. Not the most prestigious of sources, but Wikipedia provides a helpful list of Sight & Sound polls. For your entertainment, consider also this article on films considered the best. As regards comparisons of film and videogames, consider this piece by Warren Spector, mainly for the responses by Chris Franklin, Maddy Myers and Mary Hamilton.
To follow up on my sweeping accusations of focusing on the wrong games, I'm pleased to announce a collection of articles entitled Wordplay, which will focus on Twine, text games and videogame narrative. Starting as soon as possible, for as long as I care to do it.
The IGN piece referenced can be found here, and the Kill Screen interview here.
Libraries referenced include the Public Library of Vienna, Libraries of the University of Vienna, New York Public Library and Library of Congress. Its commitment to videogames is sourced from this (dated) article. On the subject of Land Art, consider reading Kyle Chayka's Earth-Bound in Issue 7 of Kill Screen. Critical Distance is currently looking into providing the kind of conservational effort I propose for videogame writing. If you'd like to help, get in touch with Kris Ligman.
Aporia, the game, can be found here. The Socratic Dialogue can be found here. Further references include Cybertext, The Great Tradition, Critical media literacy is not an option and What Video Games Have to Teach Us about Learning and Literacy.
Following this issue, columns will be moved from the issue onto the site in an effort to trim the magazine and make it more thematically coherent.
Read, comment, enjoy.
Our anniversary issue unfortunately also marks a new record in terms of tardiness, having been delayed an entire month through a series of absences, illnesses and relocations, for which I can only apologize. To make up for lost time, reposting will begin tomorrow, and we will try to get our back to our regular schedule soon. Kindly bear with us and enjoy these complimentary cookies.
– Joe Köller