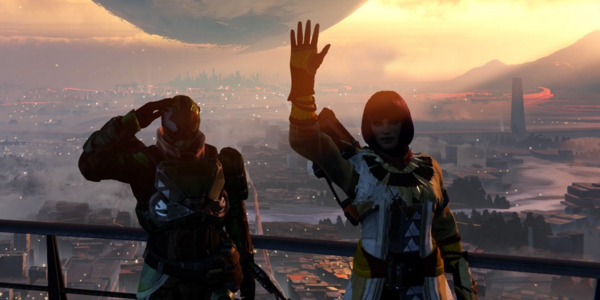 Haywire Recruitment Drive
Riley says goodbye, and Josh says hello.
Hi, readers! It's Riley, Haywire's Managing Editor, here with some news. After an incredible and rewarding stint with our lovely site, it's time for me to move on. I've jumped straight into the deep end as Managing Editor at Kotaku, where I've spent the last couple weeks learning the ropes and working with some incredibly talented people in a fast-paced news environment. While I wish this meant I could continue on with Haywire, it's time for me to hand over the reins.
My time with Haywire is hard to sum up, even for someone who makes words professionally. I've spent years as both an editor and a writing teacher, and I found that those passions were best combined at Haywire. I delighted in mentoring new writers and pushing seasoned ones; working with other editors and amazing colleagues like Joe, Kit, and Taylor; and I relished the Sunday mornings I spent puttering around in WordPress making every column look just right. I've never felt cooler than when I was putting up columns during lectures at Indiecade and during lunch at academic conferences, always making time to do the best work I could for each of our talented and dedicated writers. I've improved immeasurably as an editor during my time here, and Haywire provided a wonderful opportunity to learn the ins and outs of managing a publication for the web. I have no doubt the site will continue to grow, change, and thrive, finding new voices to support and promote.
I'm thrilled to announce our new Managing Editor, Joshua Trevett. Josh has been a thoughtful, savvy, and thorough editor with a keen eye and astounding attention to detail. He's a talented writer in his own right, though my favorite thing he does is his awesome YouTube series "Talk Simulator," where he plays Euro Truck Simulator 2, arguably one of my favorite games. He's been an absolute joy to work with, and I'm confident I'm leaving the site in the best possible hands. Please give Josh the warmest of welcomes.
JOIN US
If you're wondering what all this change means for you, you're in luck! Since things are shifting around at Haywire, we're looking for some new faces. We currently have openings for two writers and one editor.
First things first: there's no money in it. Nobody receives a paycheck from this site, nor are we particularly trying to change that. We can't promise you more than a small amount of "exposure," either. Still, as long as you're not coming to us in search of fame and fortune, we think Haywire can a pretty cool thing to participate in. We can't pay you in money, but we can pay you in our hard work and support.
Here's what we offer: a community of folks from various backgrounds and walks of life, united by an interest in the craft and discourse surrounding games criticism. Because we're not stressed about timely reviews or highly clickable headlines, we're free to do the work for its own sake and to explore interesting angles and complex ideas. You retain full rights to your work with us, so you can go get rich off it if you want (and we'd be delighted if you did). It's like your blog, if your blog were a team effort. We're also committed to fostering a respectful, welcoming atmosphere for people of all genders, sexualities, races, and abilities. Though our site is in English, English is a second language for many of our writers. You can learn more about what we stand for by reading our ethics statement.
There isn't any particular kind of applicant we're looking for. If you're an experienced professional and think it would be fun to contribute to our efforts on the side, that's awesome; we won't take up much of your time. If you're new and might benefit from a little structure and advice, we'd be happy to teach you the ropes and help you hone your craft.
Sound good? Here's some nitty gritty.
Writers: You'll be in charge of a column, published every fifth Sunday. (We won't let you forget.) Your team of two editors will be available to help you generate ideas and to provide friendly constructive criticism for your copy. After completing your first draft a week prior to publication, we share and edit in Google Docs, which is pretty simple software to learn. The final say about any changes is yours, and again, we retain no rights to your work. That's all yours.
When applying, send us any prior clips that you may be proud of (no problem if you don't have any), and a pitch for your column. A narrow focus could be cool, but it's not necessary. Current and past columns have looked at the interplay of narrative and mechanics, deep dives into game locales, and surveys of Twine games. Tell us about your perspective!
Editors: You'll be assigned to a column (or more than one if you like!), the first draft of which is usually submitted a week before it runs. You'll work alongside our Managing Editor and the columnist to hone the writing, clarify ideas, and catch typos. Some columns require several rounds of revisions, but because each column only comes around once every month, the workload is generally minimal.
We favor a collaborative relationship between writers and editors; unlike some other environments, our editors are more friend than foe. We're here to support the writers and improve their work. Likewise, we're happy to mentor less experienced editors who'd like to try their hand at it!
When applying, please tell us a bit about your editing background if you have one, why you're interested in editing for Haywire, and what you hope to gain from your time with us.
Everyone: If you're interested in either position, please send an email to joshtrevett@gmail.com. Remember, this isn't a real job, so we don't need to see your resume. We're more interested in whether you'll be a good match for the team than we are in your qualifications. Relax! Everyone just relax. We'll write about the videogames and have a swell time.