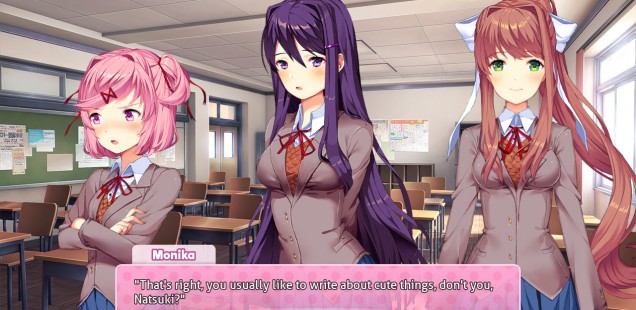 2017: The Year of Visual Novels
Lean back in your cozy armchair with Doki Doki Literature Club, Butterfly Soup, Collar X Malice, SIMULACRA and VA-11 Hall-A.
Doki Doki Literature Club
There are theatrics to everyday life, aren't there? We're meant to perform our roles in our jobs, certainly, but there's also the social elements we're meant to embody, too. Doctors can't just be efficient healers, but also have soothing bedside manner. Cashiers don't just know store policy and ring up items, but also create a pleasant shopping experience for the customers. Salespeople should be knowledgeable about their product, but also be warm social presences able to attend meetings and luncheons with zest and friendliness. In modern life, we're not just ourselves, we're also our roles.
Doki Doki Literature Club is a dating sim that takes time to tear down the curtain and betray that underneath the roles, however universal they may seem, there's more there. It's often darker than we'd like, comes with a lot of consequences, and often for the benefit of something else entirely, no matter how much ruin has to be made getting there. DDLC is a cute dating sim, but it's also horrific. DDLC is a game about love, and the ways it can be both blind and blinding. DDLC is a game about relationships, and what secrets never survive them.
DDLC is a game about people, and all the messiness that hides behind the theater. It's cute, bitter, charming, hurtful, illuminating, and incredibly dark. It's worth playing, worth experiencing, particularly for the ways it reminds us that it's unerringly human, precisely for all the ways it isn't.
---
Taylor Hidalgo is a writer, editor, and Features Editor here at Haywire. He's a fan of the sound of language, the sounds of games, and the sound of deadlines looming nearby. He sometimes says things on Twitter, his website, and has a Patreon if that's your thing.
---
Butterfly Soup
It's hard to write about Butterfly Soup without fangirling out, yet it's a struggle to put my finger on what exactly I love so much about this little visual novel about queer teenagers playing baseball. I look at the characters, how they represent a diverse range of ethnicities, sexualities, and backgrounds, and it's like I'm in high school again. I suspect the visual novel's taking place in 2006 helps with this; those vintage memes take me back.
I grew up in a Navy town with a population that flowed in and out like the tide. It wasn't until college that I realized my background wasn't the norm, and as I entered the professional world I saw the homogeneity I first experienced on campus grow even further. It upsets me. It upsets me that it doesn't upset more people. In this way, playing Butterfly Soup was incredibly validating, and seeing its success even more so, because it proved there exists a hunger for more diverse stories. And not just as background filler or token characters, but actual fully fleshed out, playable characters with personalities informed by their cultural upbringings, but not defined or limited by them.
In 2018, I hope AAA studios take a note from Butterfly Soup's book. It's POC characters done right. It's queer characters done right. It's teenage girls done right. And I defy anyone to not crack a smile at Brianna Lei's endearing cast of characters.
---
Alyse Stanley is a Virginia-based technical editor who loves finding larger meanings in tiny pixels. She has three truths: 1) It is always an appropriate time to wax praise about Fallout New Vegas; 2) Cute indie games are too good for this world; and 3) Symmetra is a DPS. You can spot her words at Unwinnable and Rock, Paper, Shotgun, or check out her Twitter.
---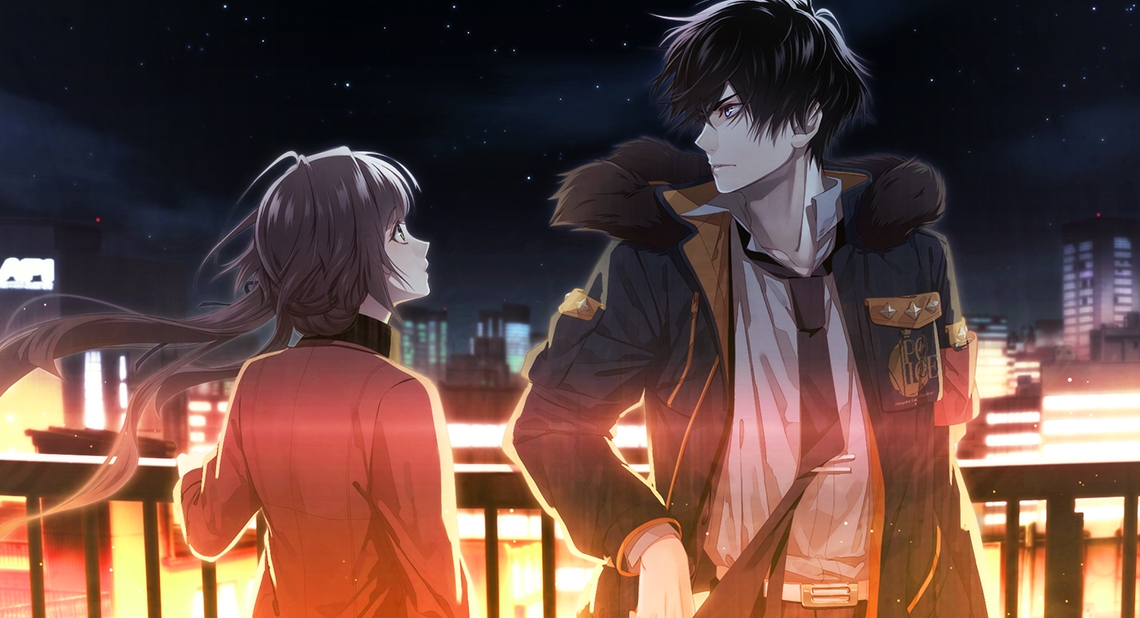 Collar X Malice
Collar X Malice is story driven with a female protagonist, has a buffet of cute anime boys to romance, and an overarching narrative that unraveled to propel me through multiple playthroughs. In the game, a terrorist organization kidnaps our heroine and places a collar on her that she cannot remove. An investigative agency founded by some former cops agrees to help her find out the truth about the terrorists that collared her.
Each playthrough pairs the protagonist with a male partner from the agency, and the player focuses on solving a different pair of murders committed by members of the terrorist group, therefore no single playthrough has you solve everything at once. To understand all of the crimes, you must partner with each of the men. This game manages to pull off perfectly executing connected but independent storylines. Together they manage to build to something greater.
I loved the central mystery of the game. Trying to figure out who was the head of this terrorist organization had me spending every moment filing away mental notes and brainstorming arguments for who must be the villain. The mystery kept me on my toes the entire time. My favorite part is that the game won me over with each of the male leads. I was swooning over characters I had never anticipated liking and I was thoroughly charmed by every member of the cast. Helping your partner solve crimes they have personal investment in and falling in love in the process is deeply satisfying.
This game had me hiding under my covers at night, playing just one more scene because I needed to see what happened next. If you like a mystery story and being swept up in convincing romance, I cannot recommend Collar X Malice highly enough.
---
Jenna H is a Pokémon master, a Midwesterner by origin and a sucker for a good romance story. You can find her on Twitter or on Instagram, where you can see pictures of her large ginger tom cat.
---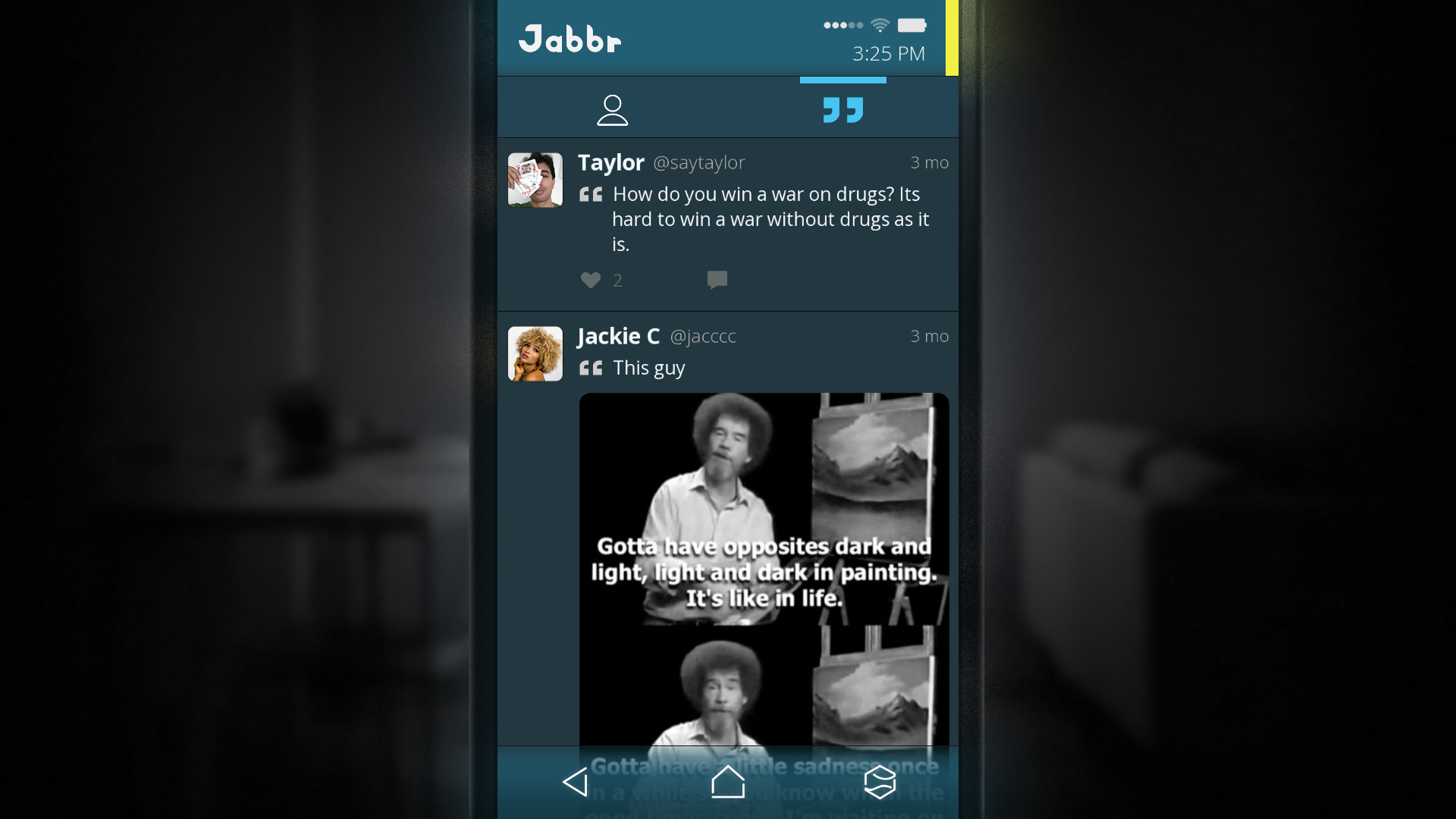 SIMULACRA
When I was younger, I used to store old letters, pictures and other important bits of my life in a box under my bed. This box was an intensively intimate collection of my daily life, my friendships, my family and my emotional ups and downs. It was my secret space, something I would never want anyone else to open and dig through my feelings and most private belongings.
In the digital age, I mostly stopped adding stuff to my secret box. Instead, it all ends up on my smartphone which thus has become the digital counterpart to that box.
SIMULACRA is a game in which players find a lost phone. They will soon discover that something strange happened to the owner of the phone, a girl called Anna. To find out about her fate, they snoop through the phone for clues, crack passwords and read Anna's chats. The game does a great job at simulating a real person's phone. For me, it was an ambivalent experience: on one hand I felt like a super sleuth uncovering its mysteries. On the other hand, I just felt like a dirty little peeper, digging through and violating Anna's privacy.
This experience, better than any other warning I received before, made me question data privacy in the digital world of today. What do we store in our digital secret boxes? What happens, when someone finds and opens it, no matter the noble cause that person might pretend to have? SIMULACRA is a horror game both on its outside and inside: it made me feel guilty and it scared me even back into my real life. I will never again see my smartphone as it was before and suddenly, the box under my bed feels like the safest place on earth to keep my secrets…
---
Andreas Betsche is based in Indonesia and Germany. He usually writes about videogames from Southeast Asia on his website and this might explain why he chose a game from Malaysia for this article. He kindly invites you to follow him on Twitter.
---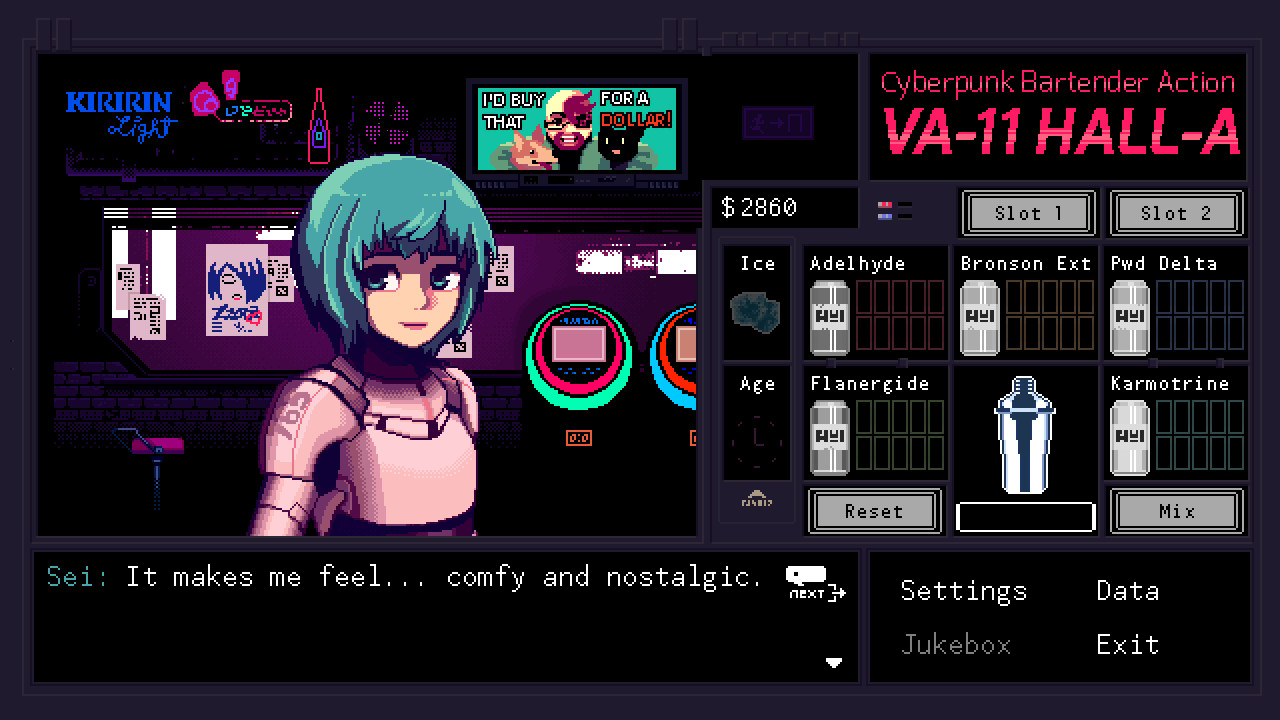 VA-11 Hall-A
VA-11 Hall-A is a 2016 release, but found its way onto PlayStation Vita in 2017, at least on American shores. Which means I can probably write about it again next year, when us Europeans finally get it. Releasing on Vita in 2017, imagine that! It was a gorgeous decision, because VA-11 Hall-A on the go is a perfect fit.
The Vita always lent itself as a great place for visual novel-ly types of games, and much of the appeal of this Waifu Bartending Simulator comes from chatting up pretty cyberpunk people from behind the counter. Secondly, the VA-11 Hall-A soundtrack by Michael Kelly alias Garoad is the one album that should be readily available to you at all times. VA-11 Hall-A is one of the rare examples of games that are not supplemented by their score, but elevated into high heavens through it. I'm not even sure if I would like the game at all if it wasn't for this masterpiece of music. Hell, I even bought a vinyl record of it. Yes, I am in love. No, this is not really about the game anymore. But mixing drinks with a tad too much alcohol to Garoad's jukebox tunes is, truly, Valhalla.
---
Pascal Wagner is the indie games correspondent on Germany's oldest gaming site, Polyneux. He's also researching video games and language at Language at Play since he can be a huge nerd about linguistics. Add him on Twitter and tell him that you, like him, still own a PlayStation Vita.