Set $Games to Destroy: Vol. 2
Soha Kareem shares four more games made in Twine.
Eden
The story in Gaming Pixie's Eden is as impressive as its use of music, maps, achievements, and dialogue choices. I can feel the ethereal world GP created and was falling deeper in love with each passage. It's fitting, as the game is about falling in love with a mysterious alien and helping them return to their home planet. It's an accidentally political game in that it wasn't a conscious choice to make the game about embracing bisexuality, but that's what the final product became as the story unfolded. Not only do I love that this is a story about queerness with a positive and majestic tone, but I hold it in high regard as an example of how to create queer fiction.
The game's endings and achievements are determined by your karmic choices. Should you take a peek at Eden while they change, chances are they won't be wanting to pursue you romantically. I appreciate the kind of message that emphasizes being a good person to achieve good relationships, rather than being manipulative to seduce the character. There is also a clear respect of identity, from prompting the player to input their name and at some point determine their gender. Eden is incredibly beautiful and heart-warming, or heart-wrenching depending on the choices you make, and is both surreal and familiar in its depiction of falling in love.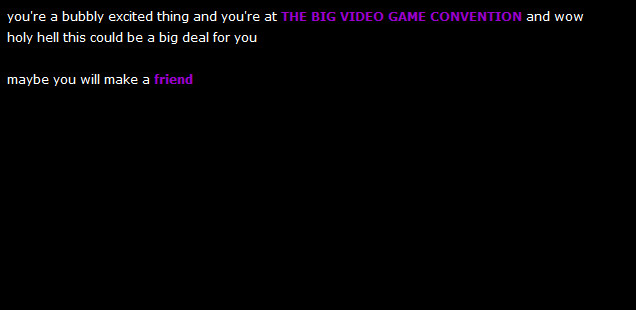 My Kindness Is Not An Invitation For You To Touch Me
I've played this game dozens of times before Arden even made it. It's too familiar an experience to be overstimulated by crowds of people, and then be taken advantage of as soon as you let your guard down. Essentially this plays like a con-attendee simulator, where you have high social anxiety and though you find the environment exciting, it is mostly an overwhelming experience. Out to dinner with friends, a man you thought was safe to hang out with based on previous conversations unexpectedly and unsolicitedly places his hand on your thigh with the implication of taking things further. This is where the tone of the game sharply shifts.
At first I was expecting the rest of the narrative to trigger both my trauma and anger, but Arden twists the story to reflect the tone of the game's opening message: "IF A CREEP HITS ON YOU, YOU HIT THAT FUCKER BACK." It's a revenge fantasy that many abuse victims play in their head where confronting unwanted touches ends in a blaze of glory. I had the chance to meet Arden, who is a wonderful person, last weekend for the Toronto Comics Art Festival and told her how satisfying the game felt. I've always wanted a game that empowered my trauma instead of playing debilitating content that feeds it. We then grabbed dinner to calm our brains buzzing with electricity from meeting too many people, and were in a group where everyone's safety came first and personal space was respected.
Content warnings: "hand trauma, violence, men being assholes"
Queers in Love at the End of the World
Being in a long-distance relationship, time is so precious to me when I'm with my partner. Every time we meet it feels like the 10 second countdown looming in anna anthropy's game follows us. When faced with the timer, I realized how much text I had to choose from, and how much of my choices in-game depended on gut instincts rather than testing different options. Do I tell my partner I love them? Do I start to fuck them? Kiss them hard? There's not enough time in the world to show someone you love how genuinely you cherish them.
The afterword of the game is inspired by a sign that says "WHEN WE HAVE EACH OTHER WE HAVE EVERYTHING." There's no mention of what's causing the end of the world, and that's a meaningful decision to make for the game. No context or backstory is necessary when you and your partner have each other. Although time persists and threatens your relationship, you'll stand together at the end of it all when everything is wiped away. This game is one of my favourite love stories told through Twine, where both the mechanics and the narrative force you to only think about your loved one.
Grandpa
When anyone doubts the limitations of programming in Twine, I show them Grandpa. The collaborative effort between Omar Enezi, Abdullah Hamed, Basma Mariki, and Darren Curtis is one of the few Twine games that made me gasp by its ending. It's a story of a young girl named Emi who keeps her grandfather company in his old mansion. She realizes he lost his hat, and the remainder of the game is trying to find it in various places on the premises. A haunting and beautiful melody plays throughout their adventure while Emi wheels Grandpa around the mansion and in the backyard. The melody reminded me of Year Walk's "Vaggvisa," a brief yet unforgettable tune composed by Daniel Olsén that plays when the player is twisting a doll's head in a dim-lit cave.
Similar to Eden, Grandpa offers a unique experience in Twine that blends art, sound design and familiar game structures, like an inventory system, to help the player in completing the simple quest. I personally enjoy when creators use Twine to build beyond hypertext and choose to implement mechanics because they're excellent examples of how far Twine can be pushed. Grandpa is also exemplary of how brief games can pack a heavy punch as longer ones, and how a story as simple as finding a hat can be twisted into an incredible adventure.
---
Soha Kareem is a games critic, experimental game designer, and MA Candidate from Toronto. Check out her portfolio, and see what she's angry about on Twitter when her thesis is not driving her into madness.