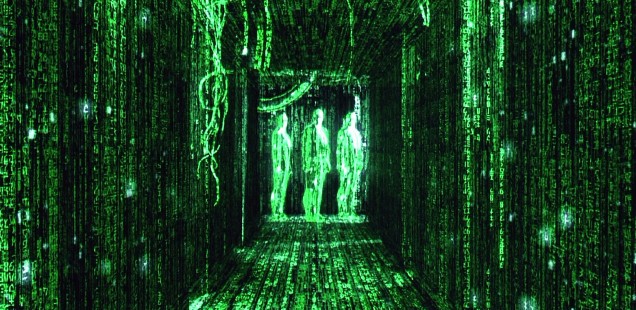 Same Difference: Virtual Virtual Reality vs. Virtual Reality Reality
The case of two remarkably similar concepts.
So, Mark Suckenberg thinks he's getting hip, eh? The Social Network not good enough for him anymore? Now he's got to buy Oculus and Whatsapp?
I was gonna say "Whatsapp Oculus" to see if anyone would get the Bugs Bunny joke, but this new editor is saying I need to stop with the shitty jokes. You wait until I've got my own film, then we'll have wall-to-wall shitty jokes, right? I'll make Meet the Spartans look unfunny!
What he doesn't get, and what you don't get, is that there's a difference between what we're told Virtual Reality is and what we know Virtual Reality is. Or are they actually the same? You don't know, do you? Not until you've heard the FACTS!
Representing Virtual Virtual Reality are the films Lawnmower Man, Hackers, The Matrix, and a whole bunch of other movies that are on Netflix at the moment. Representing Virtual Reality Reality is… what I know about the subject. Which is a lot.
FACT: No one hits DELETE in the movies.
Virtual Virtual Reality (VVR) is there for the spectacle. You have to have the rushing lines and the whole rainbow road hyperspace effect going on. This is because movies are all about telling the sheeple what they want to be told. Jeff Goldblum hacks into the Independence Day spaceship with an Apple, for Job's sake – like they'd give aliens a site license.
Also, that movie is buffalo dung. The White House is built from Clintonium, so it's immune to conventional weapons. That's what the Star Wars project was really about, or so Steve says.
Virtual Reality Reality (VRR) is there for the nerds. They don't like things like whooshing colors, unless it's green number waterfalls like in The Matrix. I'll come back to this later, but no nerd worth his 'Salt on Titan is gonna stick the Rainbow Road in there if they can't fire blue shells at their attackers. So VRR works the way the nerds want it to, which isn't anything like it is in meatspace.
FACT: Siri should be voiced by Jen Taylor or Ellen McLaine.
Unlike VVR, VRR requires perfection. It's gotta be awesome or people aren't gonna go for it. If you have Alan Rickman doing the voice of the A.I., you're going to have women drooling over the speakers. And if he tells you "It'll only take five minutes to get to the theater," then you're gonna run because you'll think there's a bomb there you have to defuse or something because YOU'RE A HERO. If the A.I. is voiced by Bill Nye, you'll believe anything he tells you, unless he's talking about your mom.
See, they did this survey ages ago that said that people, including girls, respond more quickly to a young female voice. Something to do with a parental concern hormone or something. So that means A.I. needs to be voiced by someone like ScaJo in Her. Which I only saw because I was forced to.
VVR has the same deal: GLADos does all the human bits parts far better than Microsoft Mike, or whoever does the voice on Arby 'n' the Chief. In the movies, you need a big draw if you're gonna get all sci-fi – and, coincidentally, that same young, lithe, sexy voice that gets you to turn left when your GPS tells you to also happens to be pretty good for filling seats. So that's one thing they got right.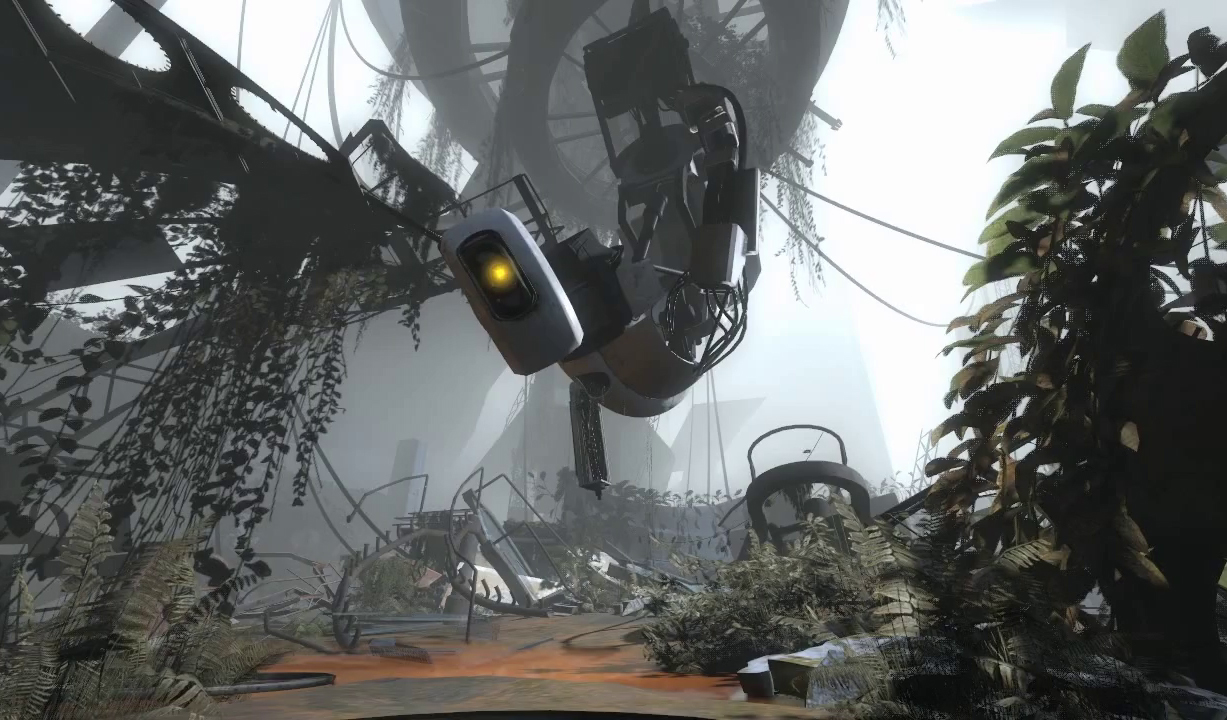 FACT: Turn your head and vomit.
VVR is all about the ride. You whoosh and zoom and loop round like Carmageddon meets Frozen (Another movie I got dragged to, because she said it would be fun. And it was. Sorta) But every time you log on or off in the movies, you go through this bullshit road or meadow or some classy voice wishes you luck or something like that. VRR isn't like that. It really isn't. I tried on one of those headsets and it's so freaking slow to update. It's like your head gets lag. So you try to un-lag your head by moving slower and then your head moves dead fast and the guy takes the helmet off you and you throw up all over your girlfriend's shoes and she goes off with some buffalo dung. But it's not about that.
Am I banned from any swearing now? That's Bromley!
FACT: Oculus looks like Lawnmower Man, but you can't sex the ladies in there.
Let's face it – the joint operative of VVR and VRR is sex. But how they go about it is massively different.
VVR turns you into this shimmering metaphor that loops around your babe and lets you go in all the holes all at once. But that can get messed up pretty fast. Like, if I want to scratch my balls and my balls are now on my head, do I have to find my arm first? Also, if she changes into an animal or something, that's gonna make me a furry. And I'm not going there.
VRR does it even more creepily though. For a start, she's got to be there with you, or at least on the link-up with you. Now, if you're getting dirty with a headset on, then you're gonna look like an idiot. But if she's far away, how do you know she's not stroking her cat or something instead? Back to being a furry.
FACT: This next session of VR sex is probably sponsored by Trojan.
Blade Runner may have had its faults, and its boobs, but they got the ads right. Surprisingly, VVR is more ad-free than VRR. You imagine Leo DiCappuccino going all Inception in a real person's mind. They'd have [Popular Cola Nut-Flavored Drink] and [Cheese-Flavored Snack Foods] everywhere. Especially with Suck-it-berg running the show. You wouldn't be able to move in the new VR for ads, either – hell, when I was last at the movies, I had to wait through half an hour of ads before we even got to the previews. Even YouTube throws buffalo dung at you when you're trying to watch the latest trailers. You really think I want to be walking down the street past a Clown Burger and have a full-iris two-for-one offer shoved in my face?
VVR is quite laid back in that respect. Even in The Matrix (where you'd expect mass advertisements from all the robots controlling us), there's no real ads. That's why it's the single greatest movie ever made. Not part of any series. It's a standalone film. There's no other films that are linked to it. None.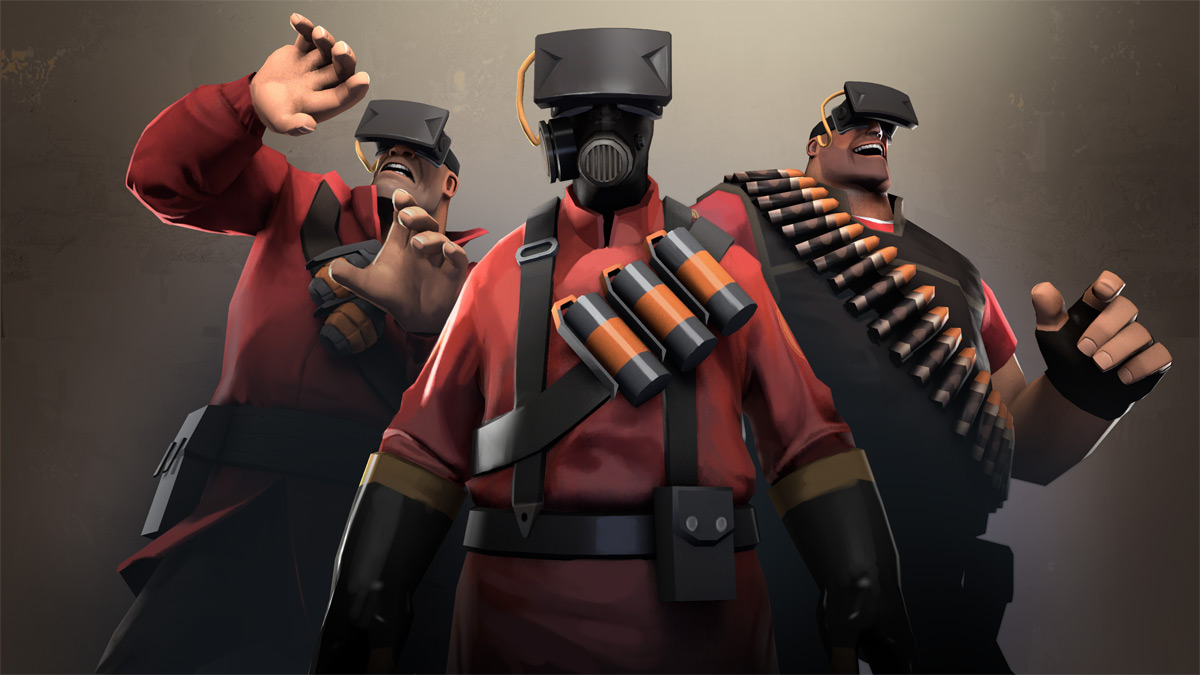 FACT: Only gamers understand VR.
See, this was the big mistake: As soon as Zoidberg bought Oculus, he said that they could use VR for something other than games. That's pure buffalo dung. VR IS GAMES. That's not even a VIRTUAL FACT, that's a plain, honest-to-goodness, AMERICAN FACT.
Take VVR: all throughout the portrayal of VVR, it hasn't been about American work (because what other country uses VR regularly, England? They haven't got the teeth for it). It''s been about gamers. Proper, blue-collar gamers who game because they're gamers. It's about saying, "I don't want this reality. I want my own reality, and that's why I'm getting it virtually." Even the vintage films like Ghostbusters, Lost Boys, and Hackers knew that VR was a thing you made for yourself. It didn't come from all these people who run companies, have babies, or do stupid stuff on the news, but rather from hard-hacking people like you and me who game because we reject this reality and substitute our own. Virtually.
You know why gamers are the only ones who get VR? Because we're the only ones kicked out of IRL. Because we're too good for IRL and they fear us.
And here's a FACTIONADO on why:
VVR IS A VIRTUAL VIRTUAL REALITY BECAUSE IT'S MADE BY PEOPLE WHO ALREADY HAVE THEIR REALITY. THEY WRITE THE NEW REALITY AS THEIR OWN BECAUSE THEY'RE SCARED OF WHAT REALITY OUR VIRTUAL REALITY REALITY WILL BRING THEM. VRR IS A NEW REALITY THAT'S DIFFERENT FROM THE OLD REALITY AND THE VIRTUAL VIRTUAL REALITY. IT'S A VIRTUAL VIRTUAL REALITY REALITY.
So, after all this discussion on VR, VVR, VRR, and VVRR, you're probably saying to yourself, "Well, sKanDLe, you've made it clear for me that there's a big difference between the VRs, haven't you?"
NO. BECAUSE THERE ISN'T. NIL. NADA. ZIP. ZILCH.
FACT: ALL VIRTUAL REALITIES ARE THE SAME BECAUSE THEY'RE REALITIES THAT DON'T EXIST. UNTIL VIRTUAL REALITY TAKES OVER REALITY, THEN IT'S ONLY VIRTUAL – NO MATTER HOW YOU SLICE IT.
You may want to argue this, but you know in your heart that I'm right and you're wrong.
Any geek on the internet starts giving you trouble talking to you about two things?
You come back to me, and I'll make sure they know the FACTS.
I'm outta here. Peace.
---
TL:DR; Basically hardcore gamer. 100%'ed Battlefield on first attempt.