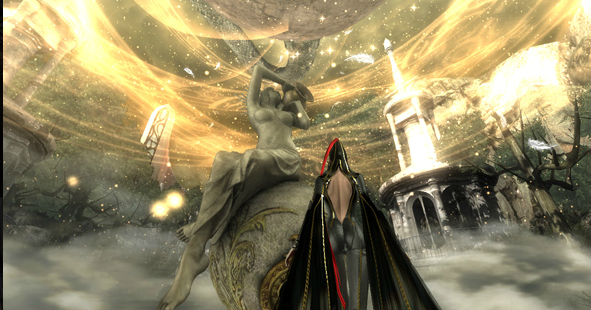 Same Difference: Keeping Abreast of the Situation
The case of which witch is which?
While I've been rattling on about zombies over the past three columns, two huge things have come into view.
Both of them are equally worthy of debate, because both are related to the mass debate we should be having about girls in games.
We've already looked at the idea of zombies, Nazis, ninjas, and pirates, but what about the women? Sure you can have zombettes, Nazettes, ninjettes, and piratettes– but the girls have two things that boys don't have:
Witches, and games about witches.
Two games spring to mind immediately, because of their recent release:
In the black corner, we have Bayonetta, the follically-furnished witch of gunplay. And in the purple corner, we have the Kim Kardasian of Dragon's Crown, The Sorceress.
Now, you may be saying that we have wizards to match the witches. But that's not a FACT, is it? When was that last time you saw a wizard? Did they look anything like a witch? No, and here's why:
FACT: Wizards learn; witches are taught.
This is something you learn very early on. Witches live out in the woods, eating children and gathering herbs. Wizards sit in small dark rooms and study weird facts. And never the two should meet. Ever heard of a married witch? A married wizard? No. They have to stay on their own or their magic goes crazy.
While your dressing-gown wizard is looking through books in Latin though, your garden variety witch has to go through a book of spells by herself. There's loads of blokes growing neckbeards to become wizards, but there's no colleges of magic for witches. They have to learn it all from crystal balls – which were the beginnings of Instagram; I think.
FACT: Witches don't feel the cold, as in the phrase "As cold as a witches tit."
Researching through the internet, as I do, I found that phrase, and it explains why witches wear so little. They don't need to bundle up. The Sorceress, who is actually a necromancer, lobs around spells without any need for any protection. Bayonetta, being the bullet witch, uses all of her hair to clothe herself.
In the second game, Sarah Palinetta has short hair, but the same costume. That means her costume is not made of her head hair. So that explains why it's so curly.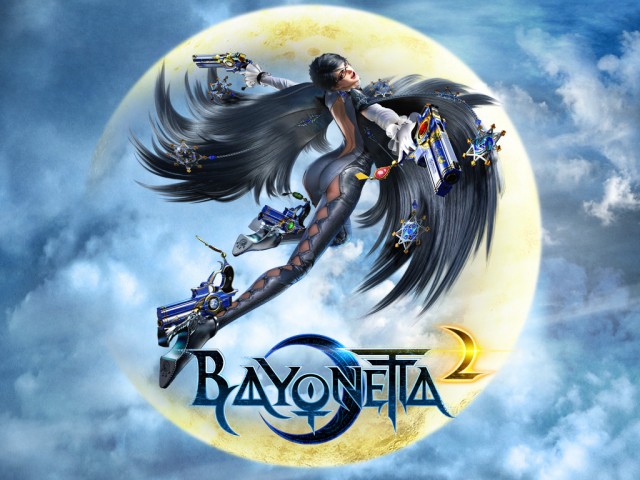 FACT: There are very few pieces of female armor.
Making armor is tough. Even the so-called breastplate rarely had breasts in it. They're far too difficult to curve the armor for, and it would require every single piece of armor to be fitted and re-fitted every time you lost weight.
The obvious inference is that women rarely wear armor and have to rely on other things to keep them safe. The existence of magic, guns, and support classes support this. When you do see piece of armor with a breast-plate, you know that it's totally unrealistic. That's why the Sorceress has cloth armor and Palinetta uses her magic hair.
FACT: Breasts denote motherhood.
While this seems to be pretty basic, there's a special point about this that works with witches. Witches in general are seen to lack maternal instincts (hence the "as cold as"), but Bayonetta is a mother. Therefore they have to denote her maternal instincts by making her look like a known mother. And if Iron Sky can do it, why not? I mean, Steve's Mum looks like Sarah Palin as well, so it's nice to have someone … wait, no I don't mean that.
Vanillaware, who make Dragon's Crown, give all their necromancers enhanced physiques because of a similar idea. The "seductive" Sorceress brings life to others as well as raising the dead, hence the forthright chest that also raises.
FACT: Heroes and heroines have to look the part.
Long ago, it was decided that there needed to be shortcuts to explain the plot. In the old black and white films, they had a TL;DR whenever there was a speaking part, because they all sounded so bad. Steve says that Charlie Chaplin had a terrible voice and that's why he was never allowed to speak on film.
Not so long ago, we were still working on the idea that certain groups of people always had to be the bad guys and certain groups of people always had to be the good guys, as we've already covered with Nazis and zombies. Dad's generation changed this so that you just had to be pretty to be good; didn't matter if you were a zombie as long as you were cute.
That's why you need all the player characters to be pretty and to be understood to be pretty. Steve's mum is also pretty, and if she was running for Vice President, it'd work for her. Not that she is, of course. But I'd vote for her if she was.
FACT: Realism is unrealistic.
Magic doesn't really exist. It especially doesn't exist next to bullets and necromancy, and let's not get into the multiple ludicrous things that exist in both games. That means that everything in the game is there for a reason, not just "because it exists." The Barbarian in Dragon's Crown has massive muscles, far beyond what would be feasible for any normal man to have. Madame Styx in Bayonetta has a set of butterfly wings poking out of her back, but she doesn't start as a caterpillar, does she?
That means that both Bayonetta and the Sorceress have a reason for their grossly distorted bodies. And that's where we finally solve the link between the two.
FACT: WITCHES ARE THERE TO SEDUCE MEN, SO THEY LOOK LIKE A MALE FANTASY, BUT SINCE WITCHES ARE HISTORICALLY LINKED TO AND MAKE DEALS WITH SATAN, THEY HAVE TO BE GROSSLY MANIPULATED AS WELL BECAUSE SATAN ALWAYS LEAVES A MARK. LOOK AT THE BIRD-BODY SIRENS, THE STONEY-FACED MEDUSAE, OR THE LIZARD SUCCUBUS.
"SOME HAVE HUGE BREASTS, SOME ACHIEVE HUGE BREASTS, AND SOME HAVE HUGE BREASTS THRUST UPON THEM" – sKanDLe (Do not steal; original content)
What people fail to understand is how much work has been put into detailing the struggle that these women have to face, without showing all of the pain they have to go through.
That in itself underlines Ubisoft's point that:
"Women Are Too Difficult To Animate"
This probably explains why the few women you get to see are witches. It takes a lot of work to show both sides of such wickedness. Men, in general, are such a blank generic slate that you can simply change their clothes. Give them a robe and they're a wizard, a loincloth makes them a barbarian, and a suit makes them a government agent. Easy.
Women, though: really tough, but also very pretty. Like Steve's Mum.
You may want to argue this, but I've spent a lot of time looking through cosplay. You look at the hundreds of women that do it well and the few men who do it at all, and you realize women are harder. Women put loads of effort into it but most guys just need a suit and a gun to pull it off. So they're different.
Any geek on the internet starts giving you trouble talking to you about two things?
Next time I'm gonna prove … Nah, I'm gonna make you wait for the FACTS.
Put some more women in games. Peace.
sKanDLe
---
TL;DR: Women } } Men