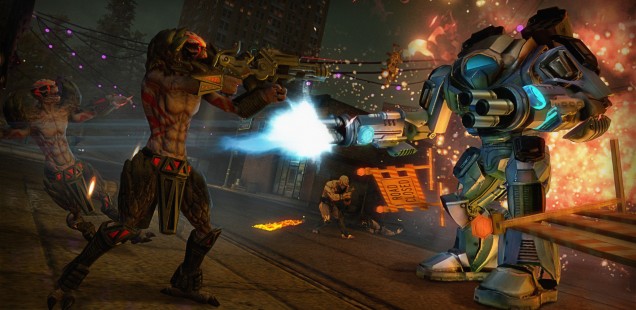 Same Difference: Saints Row IV vs. Papers, Please
The case of two remarkably similar games.
Detention again. Seems that making a joke about the Olympics being "On your Marx" is "not what young boys should be thinking of." So this is gonna have to be about geography and history. And for that, I'm gonna talk to you about two games that teach young boys about politics.
In the triple A corner, we have Saints Row IV, a game that spits in the face of grammar and then runs her over while holding a purple tallywhacker. Hiding in the Indie corner, we have Papers, Please, which is a game about being in detention for you adults.
Why? Didn't you get enough of it at school? You can do mine if you want, it's garbage.
How does the Leader of the Saints square up to the Border Guard of Arstotzka? You wait until I show you the FACTS.
FACT: You're gaming in a fascist Dystopia.
According to my notes, Papers, Please was actually written by the Pope about 1980's Eastern Block. And if there's one thing we know about the East in the 80s, it was full of ghoulashs, bearskins and people talking like Heavy out of Team Fortress 2. These guys didn't let you do anything unless you had all the papers, and that's what it's about: Keeping people in line via denial of services. It was the paper equivalent of the Low Orbit Ion Cannon.
Saints Row IV though is set in Steelport after Saints Row: The Third. But they're playing with your head, and you're actually in a dystopia within a utopia that's really a dystopia. That's not a spoiler, is it? Nah, they explain that to you after you jog through the Armageddon bit. Thing is, anytime you're in a world, you're always kicking the crap out of everyone who lives there. And they've got no reason to do anything back to you. And no power to do it. You see where I'm going here? DDOS through violence.
FACT: Innocent until proven a target.
Saints Row IV puts you in a world filled with people, things and other things. Some things can be hurt, some things can't, but people? You can batter them around the place, pitch them into flaming cars, pitch flaming cars into them – and if you're feeling fruity – even do it to yourself. It's just, well, not fun. All of these people squeal, but they never feel like they're anything more than out there to kill.
Papers, Please, on the other hand, stuffs them like a chili dog. Everyone has a family, an angle, a face, and all look like they could be real. Which is always a bummer when they go all terrorist on you. So you look at everyone as if you need a reason to let them through – like a couple of greenback reasons. Then you doublecross them. Gross Vetanya Comrade!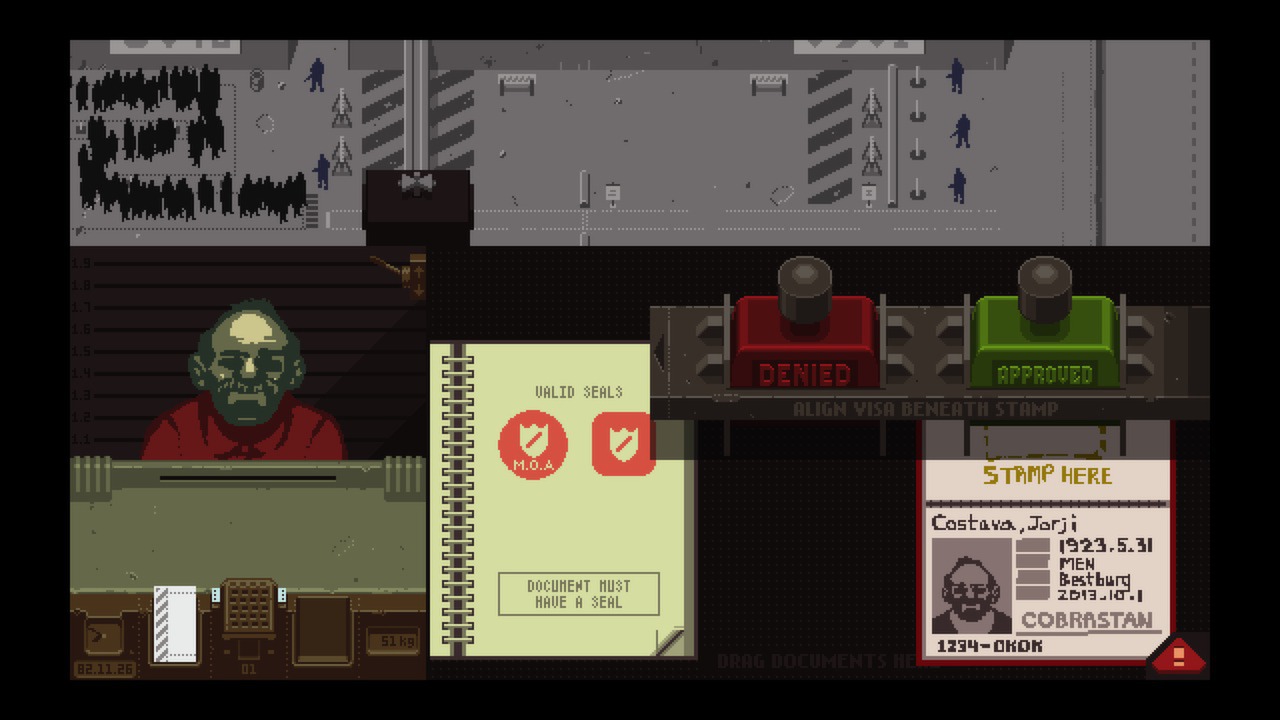 FACT: You're not doing this for fun.
Papers, Please turns off the fun from the word идти. Everything about this game is there to make you feel like you're a cock. You let them through? They keel you. You don't let them through? They keel your family.
Saints Row IV does it more subtlely by turning you off. It's like you're watching this really cool guy do all this really cool shit and you're thinking, can I have a go? Seriously, 15 minutes into the game and all I've done is a 4 minute rail shooter? C'mon guys, we've all got brothers who steal the console, you don't need to replicate this.
FACT: A friend in need is a pain in the ass.
You know what's worse than escort missions? Trick question, nothing's worse than escort missions. But what comes close is when you're doing everything for someone else. Papers, Please has your family held up against the ghoulash wall, and you need to do all the grinding to save their lives – but it's never enough.
Saints Row IV has Shaundi and other Shaundi and Pierce and the big Russian and soulless nerd girl, and they never pull their own weight! Half the missions are you fixing what one of them has mucked up and them telling you what a big man you are for fixing it. Perhaps I wouldn't have to go Tommy Vercetti on them every time if they did what they were told?
FACT: You're not the main character.
Who's the main character in Papers, Please? No-one. There's just loads of little people, with orders coming from the Kremlin. You don't even get to see your boss.
Who's the main character in Saints Row IV? Everyone. Everytime you go somewhere, there's someone else from the series doing something stupid and you're there to babysit them. If Johnny Gat isn't suddenly appearing and going "HEY I'M FAMOUS FOR NOT BEING HERE". If Shaundi is this leggy model, how come I'm not getting any action there? She's nuts about me in every scene, but there's never a chance to get it on?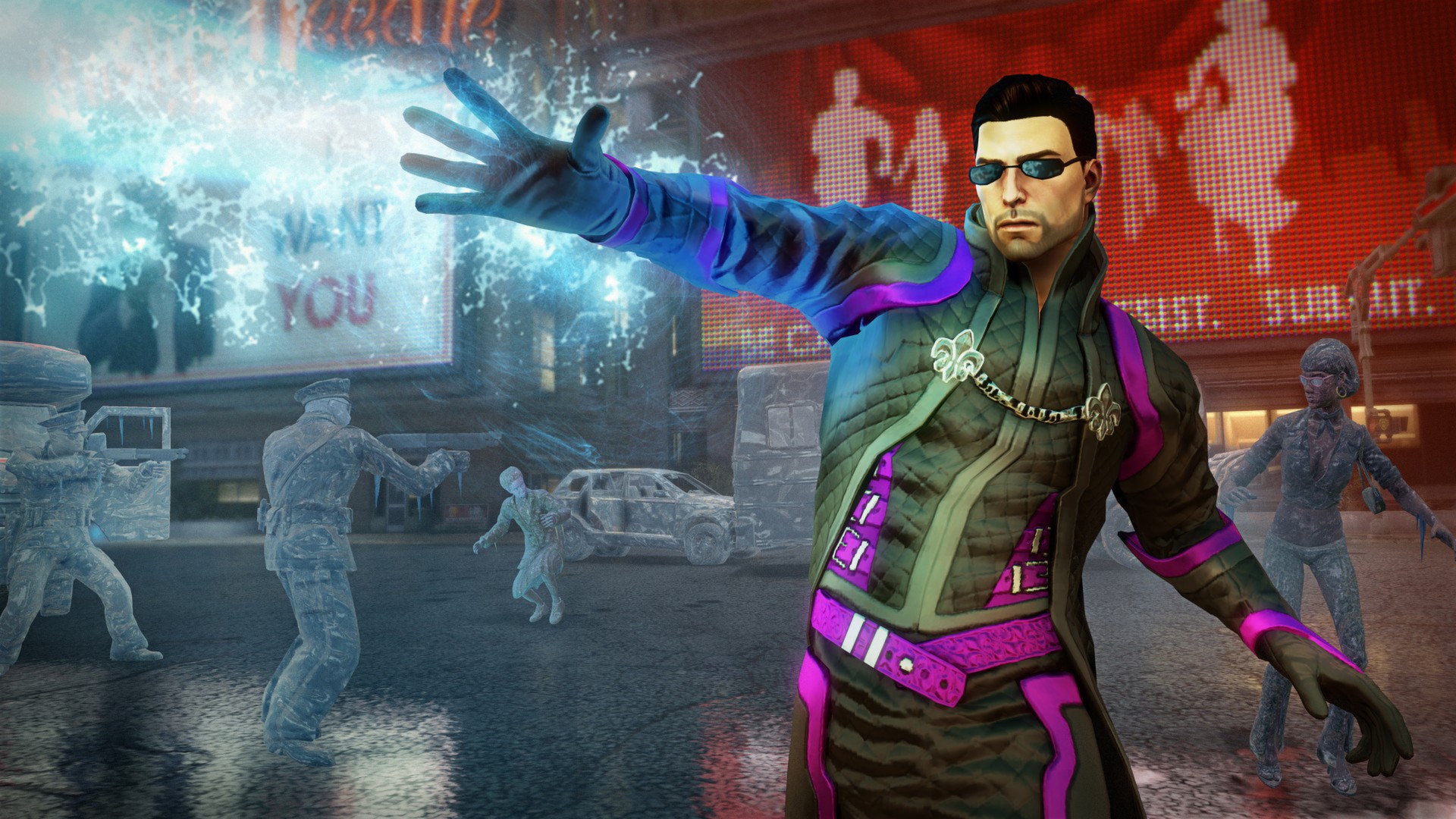 FACT: Both came from another time and another place.
The Pope got the idea after watching Ben Affleck's Argos, while he was working at Naughty Dog. (I think that's how it was – gonna have to check with wiki later).
Saints Row IV came from Attack of the Clones – which was a SR3 DLC, and is done by Deep Silver being Volition being not Rockstar. And Saints Row 5 is already on the way, despite them ending it in 3.
Time for a FACT PIZZA.
GROUP OF FANS RE-ENACTING THE WORST PARTS OF THE SERIES. SPREAD LIBERALLY WITH SEX REFERENCES BUT NEVER GETS DOWN TO IT. HUNDREDS OF NOBODIES TO SLAP ABOUT BUT NO REAL WEAPONS OTHER THAN GODMODE. LITTLE CHUNKS OF HISTORY DRIZZLED ACROSS FANTASY. BAKED IN A STEAM (see what I did there?) OVEN.
One difference: Saints Row IV is sliced with a mincer – coming out in about 30 odd DLC bites – while Papers, Please delivers a nice thin crust. Does that not make you say "Hey, that sounds a little familiar?" You're Croydon it does!
FACT: SAINTS ROW 4 AND PAPERS PLEASE ARE THE SAME GAME. Just one's a Russian re-tell.
And neither are as good as GTA V. Where's the golf, guys?
You may want to argue this, but you know in your heart that you're wrong, and I'm right. Any geek on the internet starts giving you trouble talking to you about two games? You come back to me and I'll make sure they know the FACTS.
I'm outta here. Peace.
---
TL;DR: Basically hardcore gamer. 100%ed Battlefield on first try.